Back
TA Edge Trim
A technically impressive high-quality aluminium flat roof edge for fascia heights of 100 to 200mm that is simplicity itself, from installation to aesthetics.
The alwitra® TA Series Edge Trim system is a unique and versatile roof edge detail made from high-quality aluminium. Allowing free movement of all structural parts, it also prevents splitting of the waterproofing caused by thermal expansion and contraction of differing materials. Ideal for new build and refurbishment projects, TA Edge Trims can easily be installed over existing failing roof edges. Available in various profile finishes and colours, they are specifically designed to work with single-ply and felt membranes.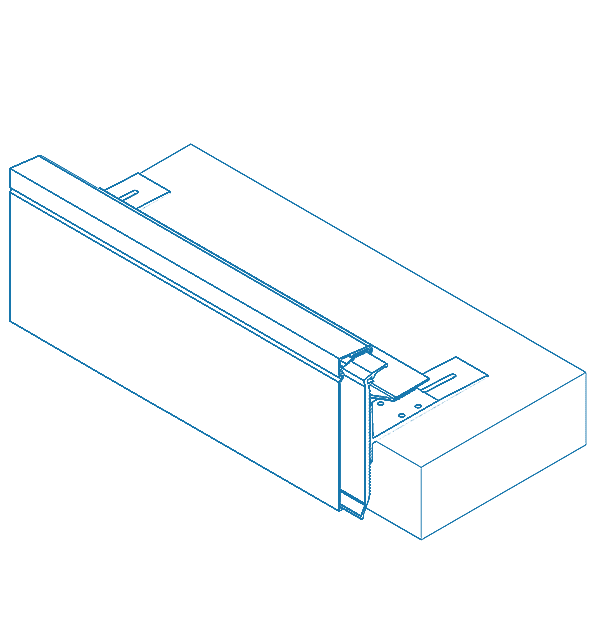 Profile Type:Fascia
Manufacturer:alwitra®
Fascia Depth:100mm
125mm
150mm
175mm
200mm
Finishes:Mill Finish
PPC
Colour:Any colour & finish, RAL or otherwise
Metallic options
Corners
(Int or Ext):Standard
Special
End Caps:Left or Right
Height-adjustable, horizontally moveable fixing brackets
Applicable on straight and curved (on plan) roof edges
Applicable on roof edges with and without upstands (parapet)
Applicable on roof edges with timber hard edge
2.5m long top caps, EN AW 6060 for material-identical and tension-free flashing of the roof waterproofing
Up to 3.0m long profiles, EN AW 6060 front face height from 100 up to 200mm
2.5m long fillet plates for in-line fastening as well as for protecting the roof waterproofing against wind uplift along the roof edge and S-shaped installation of the tape (from TA 125)
Rain resistant butt joints ensured by inserted joining plates, permanently located at the centre of the joint
Creates stunning architectural minimalist detailing with unmistakable design
Non-accentuated or accentuated joint options
Practically proven tension-free flashing against the roof waterproofing
Specifically designed to work with any waterproofing solution
Easily installed, lightweight and simple to handle
Can be installed over existing failing roof edges
Corrosion-resistant, increasing the service life of your roof edge
Available in all 1625 RAL colours and special effects upon request
Choose alwitra® select colours that are highly weatherproof, resistant to UV and chemical damage, impact, scratches and abrasion
Made from easily recyclable high-quality aluminium
Timeless design with 50+ years of installations
Download BIM
Can't find exactly what you're looking for? No problem.
We can fabricate Almost anything From aluminium to suit your architectural requirements.